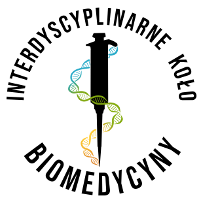 INTERDISCIPLINARY
BIOMEDICAL SCIENCE CLUB
Year of foundation: 2017
Affiliation: Department of Biomedical Sciences and the Department of Biochemistry and Molecular Biology
---
The object of the Organization is to consociate students of Medical University of Lublin interested in biomedical sciences, in particular molecular biology and developmental biology.
---
Organization meetings take place in the form of Journal Clubs. These are recurrent meetings, usually on a fortnightly basis, consisting in a student presentation of interesting discoveries and scientific experiments, as well as their own research projects. At the beginning of the year, students also share their experience with the summer internships within the Erasmus+ programme.
---
Members can participate in training and workshops organized from their initiative with the help of academics. Workshops include statistical data analysis, bioinformatics and other competencies useful in scientific research. We also organize guest lectures of professors, postgraduate and graduate students on modern techniques in molecular biology and research scientist's work.
---
Interdisciplinary Biomedical Scence Club facilitates the development of practical laboratory skills. Due to numerous research projects realized on the initiative of the members and the University's Departments, students have the opportunities to actively participate in the academic life of MUL and improve their competencies.